GRAD NIGHT COMMITTEE POSITIONS 2021
GradNight, as a small non-profit, always needs volunteers but especially, this year!
  This year is unusual as the pandemic means we have to provide a safe outdoor alternative to our traditional overnight event.  In addition, our primary funding event – the Silent Auction – had to be cancelled this year. Result:  we are organizing the event and raising money at the same time.  Any help you can provide – even if it's only a few hours – would be appreciated! Check out the positions below, more details at the Signup Genius link on the right.  Interested? Sign up today or email us at
hmbhs.gradnight@gmail.com
if you have questions.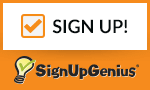 President (1): 

Robyn Souza
Tracks schedule and deadlines; leads monthly meetings; helps Volunteer committee recruit for open positions. Other "presidential" tasks as needed.  Preferably 2 presidents co-chair, backed by mentor. Mostly follow ups on committee business via email & chair once a month meetings. Extra time as needed in May and June.
Donation Coordinator (1): Open!
We are working hard on a very short timeline to raise funds for this event for the 2021 graduating class which missed out on so many key elements of their senior year.
Admissions / Registration (1):

Erin Bautista 
Tracks the online registration information and contact information for attendees, coordinates with Ms. Acosta at the high school for financial aid and scholarships.
Decorations (3): Jan McFarland
Plans and decorates the venue around a theme, and coordinates the actual setup of decorations at the event.
Treasurer (1):

Alan Olivera
Alan tracks and handles GN finances.